As an agency owner, you've always got to look for ways to improve your business. While some of this involves learning new things, much is about leveraging technology to help you save time and money. It's also about freeing time to focus on improving your business in other ways.
This article will cover some of the best NoCode tools for agencies and consulting companies. These tools will help you save time, boost productivity and improve your client relationship management (CRM)
I'm writing this post from a series of blogs to share how to leverage automation and NoCode tools in different business roles. You can read the previous one on creating an
employee management system on a budget
.
NoCode for Websites
Create A Website For Your Business (Without Breaking the Bank)! A website is a necessary tool for agencies and consultants. It's the first place customers can go to learn more about you and how you can help them. Other than showcasing your portfolio and offerings, the website should have multiple ways for prospects to contact you (phone, email, etc.) and a form allowing them to request services based on their needs. When building their websites, I see a lot of agencies focussing on the design aspect more than ease of update and integration with CRM.
In my opinion, any tool you choose to build your website should have the capability for you to update without needing a developer and to integrate with a CRM. If a prospect has contacted you through the website, you need to document them in your CRM so they don't fall through the cracks.
It offers;
✅  Beautiful and Flexible Design
✅  Integration through Zapier & Integromat to add form submissions to CRM
✅  Airtable as CMS to keep an updated portfolio
NoCode for Automation of Sales Enablement
Do you take the contact form on your website seriously? Let's put ourselves in the shoes of a potential client. Let's say you've found a company you're interested in and want to know more about. So you fill out their contact form on their website. Maybe you have done this many times in life. Have you ever wondered why filling that form never really produced results, and the same could be happening on the contact form on your site too?
There are a couple of reasons why this could be happening:
Your agency doesn't have the resources to handle leads then — you are busy with clients, so you either ignore the potential opportunity or pass it off to someone who will get back to the potential client once they have time.
You may have a strict policy for not responding to unsolicited requests. You probably don't want to waste your time and get into a demo call or meeting or answer their questions, knowing it may never turn into business for you. So, you ignore those forms until someone contacts you about a specific project or issue that requires your services through email or connections.
You can avoid these problems by doing the following:
✅  Use
Zapier
/
Integromat
create an automation.
When the contact form is submitted, it is added directly to your CRM and sends an acknowledgment email with the subject line "Thank you for contacting us." In the body, including the details of their inquiry and tells them when they can expect to hear back from you or your team.
✅ If you want to qualify these leads before meeting them, add a questionnaire to your acknowledgment email.
Use
Tally Forms
to create complex forms that send the submissions back to your CRM.
✅ Now that you know more about your lead, add automation for a meeting link to be sent out.
You know, it's frustrating to reach out to companies through their websites and then wait to hear back from them. Ensure that your customers have a better experience with you. The above steps ensure that you've closed the loop on them reaching out to you.
NoCode for Meetings
Use AI to Create Instant Meeting Minutes For Better Productivity! It is crucial for agencies and consulting firms to document all the meetings, especially those involving clients, adequately! Transcribing the meetings or generating meeting minutes to avoid missing out on tasks is vital.
Meeting minutes need to be shared with the right people at the right time so that everyone on the team is on the same page. Following this process can be time-consuming, and this is where using the right tools can give you back your time.
✅  Record and Transcribe all meetings automatically
✅  Integrate with Storage solutions to save all recordings and transcriptions
✅  Create workflows to add recordings to CRM
✅  Easily search and annotate transcriptions
Every meeting matters, you discuss multiple things, but sometimes it's hard to remember everything after the discussion is complete. Never miss any actionable point from your next call or meeting ever again!
NoCode for Proposals and RFPs
Reduce Time For Proposal Preparation By Creating Pre-Set Templates!
As a consulting professional, you know that proposal preparation is time-consuming. To a large extent, most agencies use CRM to manage client data; they research the client's opportunity, the solution they could offer, and the rates and quotes for the services provided. In addition to doing all this research for each client, you must present it simply for your clients to understand, and that's where NoCode tools come in handy. They allow you to create significant proposals faster and easier than ever before. You can create pre-set templates to use over and over again.
✅  Create branded templates for proposals, contracts or any business documents.
✅  Bring in Data from CRM
✅  Trigger PDF generation through workflows.
Other than the client-specific data, a lot of proposal creation is repetitive. Once created, each template can be saved and shared with others in your organization, allowing everyone to work more efficiently by using pre-written content instead of starting from scratch whenever they need a new document.
NoCode for Client Portal
Improve Client Communication With A Client Portal! Consulting is about taking care of the client and providing them with the best possible results. It's also about giving them a great experience throughout their time working with you, from the moment they first contact you until the day their project is complete. A client portal can be an excellent tool for doing that. It gives your clients a place where they can access information on their projects as they need it, rather than having to bug you every time they want something changed or added. The portal will also give them a secure place to communicate with you without sending emails or phone calls through multiple channels and helps keep things organized and ensure everyone knows what's happening at all times. Creating client portals can be a significant undertaking.
StackerHQ
enables you to make client portals without needing developers. With Stacker you can;
✅  Create a branded portal
✅  Give email based access
✅ Control the dashboard or displayed data
✅  Have multiple interfaces to view data
✅  Easy update to accommodate changing business processes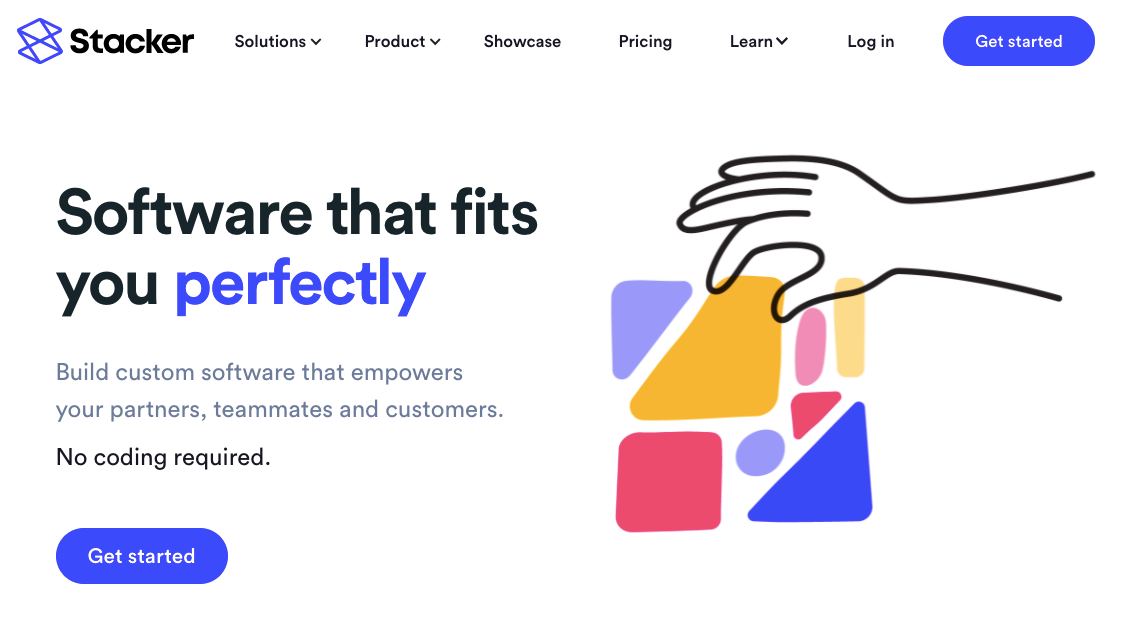 There you have it.
There are so many tools available to make your job easier when running a company, but it's up to you which one works best for your business. We hope this list will give you some ideas for making your life easier!